Finding the Right Shopping Cart
An online store requires an ecommerce (or shopping cart) platform. There are three main platforms to choose from: open source, licensed, or custom program. We have the capability of providing any of these, depending on which would benefit your business goals and purposes the most.
Open Source Ecommerce Platforms
A free, open source shopping cart platform is very versatile and can be customized in many ways. Many large businesses use these because of their ability to accommodate a wide variety of functionalities and structures. But an open source platform, while free to use, requires a lot of coding, security, and other maintenance that costs money. Our team can provide all of the coding, hosting and security measures your open source website will need, as well as the ongoing maintenance it will require. Some of the top open source shopping carts are Virtuemart, Magento, OSCommerce, Prestashop and OpenCart.
---
Licensed Ecommerce Platforms
A licensed shopping cart platform includes all the security and maintenance you need to stay safe and running smoothly. A licensed platform is more expensive, but the features can be the most effective and economical depending on your business. Licensed platforms are more SEO-friendly than the open source platforms. Licensed ecommerce platforms are progressive. Some good examples of licensed ecommerce platforms include Shopify, Volution, Magento Enterprise Edition and Goozga
---
Custom Ecommerce Program
Many businesses prefer to have their ecommerce solution built from scratch. Sometimes the unique needs of a business don't require the massive amount of software that comes with a big shopping cart program. Or their needs might be so big and different that no existing CMS or shopping cart platform can handle the project by itself. Of course, in many cases creating a custom ecommerce program can be a lengthy and costly process.
Regardless of which ecommerce solution you choose, here are some additional features we can provide:
Gateway and Merchant
TRIXMEDIA has partnered with Beanstream, one of the most reliable Gateway and Merchant providers in the world. This partnership gives our clients certain special benefits that no other eCommerce platform can offer: a fixed preset rate, synchronized multiple charging devices/methods, a full banking system for order management (holds, refunds and split charges) all done through the backend of your website.
---
eCommerce Server Solutions
After many years of experience with ecommerce websites, we've discovered that one very important component neglected by many is to bring in special high performance servers that are designed for hosting various kinds of ecommerce websites. These significantly improve the speed and increase the level of security on the eCommerce sites we host. We also offer CDN (Content Delivery Network) and Load Balance routers for our larger clients that handle a large volume of traffic and transactions.
---
Custom APIs
We often work with 3rd party programs that act like plugins for an ecommerce website. These provide functions that may not be built into the platform, like: connecting an internal inventory system to the site, using special shipping carriers, using advanced analytics for data gathering, referral systems for enhanced customer interaction, customer chat systems, barcode readers and POS (Point of Sale) systems.
---
Templates
We have access to thousands of the most cutting edge templates that can be customized for any ecommerce website. Often, reviewing templates gives both our creative teams and our clients the opportunity to envision how the final product should look. Depending upon the project, buying a template (shared or exclusive license) can save our clients time and money.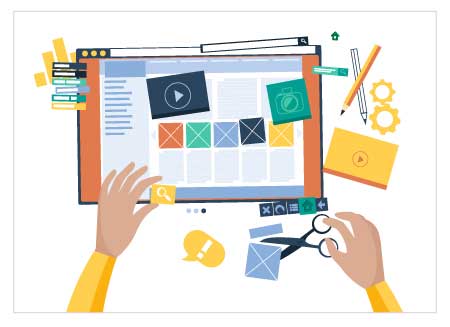 ---
Data Entry Team
Data entry can be a complicated process for beginners on the web or small companies. Our experienced data entry teams are available to help you with the heavy lifting on your site, such as getting hundreds of products uploaded to your system quickly and accurately. If desired, we can assign a dedicated team to work at your location hand-in-hand with your team.
---
SEO for eCommerce
The search engine optimization process for an ecommerce website can be very different from other types of sites. Since an ecommerce site is centered around products (which may or may not be unique on the Web), optimizing every individual item, category and brand page on a shopping cart site can have a major role in its ranking. There are many other factors, such as customer reviews, CTR (click through rates) and bouncebacks that can influence the final result. Our SEO experts are available to make sure your store traffic increases progressively over time.
---
Content Writing
An ecommerce site needs rich content, just as any website does. Our writing team has many years of experience generating compelling product descriptions on a vast variety of products, as well as business bios, banners, headlines, and any other original written content your site needs to make it more absorbing and persuasive to online shoppers and potential customers.
---
Product Photography
No online store is complete without compelling photo images. The quality of the photos on a site can profoundly influence a shopper's decision to buy. Even if your vendors can supply you with stock photos of their products, having your own exclusive images can set you apart from your competition, making you different and better. Our photography team has experience in creating stunning 2-D as well as 3-D (360°) images for websites. (Learn more…)